$2 Slices for Smiles Pizza @ Pizza Pizza Canada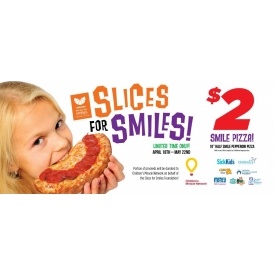 Pizza Pizza has their wonderful little semi-annual promotion on right now. You can head on into your local Pizza Pizza and get a Slices for Smiles Pizza for just $2. Portions of every sale will go straight to the Children's Miracle Network. Feel free to add a donation to your pizza purchase, but you are not obligated to.
This is your opportunity to buy a smile for a toonie. You will even get a meal for yourself in the process of putting money towards a good cause. They even make the pizza look like a cute little smile! I usually enjoy this offer a few times every time they put the promotion out. I love me some pizza, and what better way to enjoy?
Pizza Pizza is hoping to raise more than $400,000 for the Children's Miracle Network this time around. That is the amount they raised in 2015, and so far in total they have raised over $2 million since 2007.
Plus, Pizza Pizza has to be one of my favourite pizza parlours. How can you say no to spending two bucks on your favourite treat when you know some of the proceeds go to a good cause too?! This offer is valid in-stores only, and will run through to the 22nd of May 2016.
(Expiry: 22nd May 2016)