$1 Drinks During Happy Hour @ Cinnabon Canada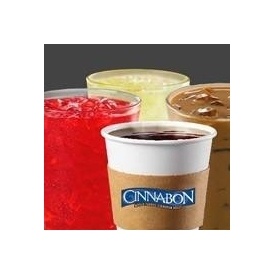 Happy Hour at Cinnabon is actually a few hours long! Head into your local Cinnabon Canada to enjoy a treat - get any regular size lemonade, iced coffee, hot coffee or tea for just $1 during Happy Hour.
Happy Hour(s) is every Monday through Friday between 3 PM and 5 PM. During that time frame, you can get a regular size bevvie for just a buck. That includes their lemonade, iced coffee, coffee and tea. I am a huge sucker for their Iced Coffee and I can't wait to enjoy it for just a dollar.
There is a Cinnabon in my local shopping mall, so when I am doing some shopping there in the near future (and enjoying the free air conditioning), I will grab one of these drinks to enjoy while I browse around. Their lemonade is actually pretty good too.
I know I won't be able to just get a drink though. I won't even have to think twice and I will have a delicious cinnamon roll on a plate in front of me. How can you resist?
(Expiry: Unknown)