Thyme Maternity Canada: 90% Off Multi Maternity Bra - Now $4.50 (+ Extra 70% Off Sale Items)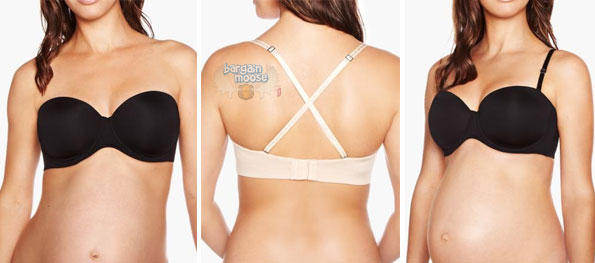 Wow, it sure doesn't get better than this! At Thyme Maternity, you can save an additional 70% off the multi maternity bra right now. It originally retailed for $49, but is now down to $14.99 and comes even further down to just $4.50 at checkout, which is 90% off!
As of the second trimester of my pregnancy, I started to feel very uncomfortable in my bras but when I showed up at a Thyme Maternity store for a new bra or two, their advice was for me to come back in a couple of weeks, just in case my breasts grew even more. Budget-wise, that was great and all but in all practicality, I was uncomfortable on a day-to-day basis and instead of toughing it out and utilizing hair elastic tricks to make my bras fit, I should have just gotten a new bra. For all of you who are pregnant now, this multi maternity bra is definitely a great pick, especially since the price is so low! The best part is that it comes in either black or nude and is available in the vast majority of the sizes as well. The 34 sizes are greyed out for the most part (with the exception of 34D) but that is probably because Thyme Maternity doesn't make bras in those sizes for maternity. At least, that's what I was told by the salespeople when I was trying bras on.
Even better is that for $4.50, this bra is incredibly versatile as it can be worn strapless, one-shoulder, criss-crossed and other possibilities. Heck, even I'm tempted to get it even though I'm no longer pregnant!
In our forum, we have the Thyme Maternity coupon code: TMACPE2014 for a 25% discount on all orders over $50, which is valid for the next two weeks. I tested it on sale items that I added to my cart and I'm extremely happy to report that the extra discount was indeed applied and the savings were phenomenal. In fact, here's a breakdown of my test order:
Obviously, I doubt any of you would be getting the same dress four times, but it was just for the purpose of the experiment. That maxi dress is actually available in sizes from extra small to medium and would definitely be perfect for showing off the belly this summer. When I was pregnant, I mostly resorted to wearing leggings towards the end but had it been summer, I would definitely have worn maxi dresses all day every day for their looseness and comfort level.
Shipping is free on orders over $100, otherwise a $7.50 flat shipping rate will apply.
(Expiry: Unknown)