Motherhood Maternity: All Leggings B1G1 50% Off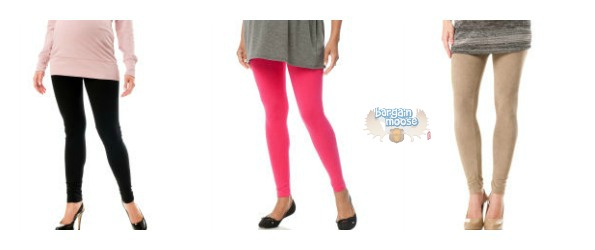 Buy one pair of leggings and get the second for 50% off at Motherhood Maternity. What is better than super comfortable leggings when you are pregnant?
I honestly wish leggings were more in style when I was pregnant. I had to squeeze myself into these uncomfortable jeans that never stayed up and looked somewhat ridiculous. Otherwise, I stretched the waists out of my regular yoga pants.
Check out these Secret Fit Belly jersey knit maternity leggings. These are fashionable to wear to work and for play, but keep you comfortable all day. The secret fit belly is really high so you don't see an embarrassing seam right across your belly. Get them for $29.98 in a variety of colours.
Add these Loved by Heidi Klum under belly lace print leggings (a woman who knows pregnancy), regularly $34.98, now on sale for $29.99, and get them with the B1G1 50% sale for $15! These leggings are cute with the added pattern. Seriously, where were these when I was pregnant?
These hot pink Loved by Heidi Klum under belly jersey knit leggings are totally wearable and make a statement! Only $24.99 (reg. $29.99). Match them with the blue ones for only $12.50.
Shipping is a flat rate of $8.95 per order.
Expiry: Unknown