Phone Accessory From $10 and up You've Always Needed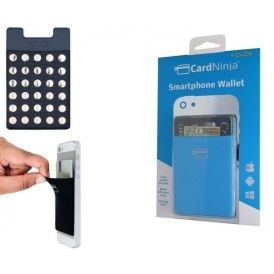 Last week in a retail store I saw a mobile phone credit card holder pocket that sticks onto the back of a mobile phone and I thought it looked like a much-needed phone accessory that everyone can use. It was selling for around $17 but knowing how great Amazon.ca is with having such an impressive range of electronics accessories I wanted to check it out first.
I discovered this CardNinja Ultra-Slim self-adhesive credit card wallet @ Amazon.ca, selling from $9.99 and up, depending on the colour/pattern selection. This particular model (don't get fooled into buying the more expensive knock-offs) has been eyed up and reviewed by top names in the tech industry: CNET, The New York Times, Macworld, USA Today, The Wall Street Journal, The Next Web, and Cult of Mac
I always have my phone in my hand when shopping and often after paying for a purchase, I hold my credit card to the back of the phone with my hand. I lost my Costco membership card in store once when doing that, which isn't as urgent as losing a credit card but I can see where that could be the next thing to lose!
Typically I then toss my phone and credit card loosely into the purse and frantically search for the thin small credit card the next time I have to make a purchase. It's easier to find a phone in your purse with the card secured in the CardNinja pocket, than it is to find the single credit card.
Teens especially tend to walk around with only a phone in their hand or pocket. Most of them have a debit card that they carry around and so this would make it easy to carry without as much risk of loss. They can also keep their bus pass, school ID and SPC Card in it.
I also like to travel lighter when going out for a shopping excursion to a mall for the day so this pocket can hold driver's license, bank card and credit card. Coupons at Food Kiosks, too!
The features of this CardNinja are that it can hold up to 8 cards such as credit cards, bank cards, driver's license, membership cards and other important cards. Apparently, some cards such as metro and building entrance cards scan without pulling them out! It uses a 3M adhesive and removes cleanly. There's a 60 day worry free guarantee as well.
Compatible with the following smartphones: iPhone 6 / 6 Plus / 5 / 5s / 5c / 4 / 4s, Samsung Galaxy S6 / S5 / S4 / S3, Galaxy Note 5 / 4 / 3 / 2 / 1, LG G3 / G2 / Optimus series, Nexus 6 / 5 / 4, HTC M8 / EVO / Desire / Sense, iPod Touch, Sony Xperia and much more! Works with nearly ANY phone case including: Otterbox, Lifeproof, CaseMate, Belkin, Speck, Apple and more.

I'm going to get one for everyone in my family; it's a small price to pay for something that is so useful!
Shipping is free at Amazon.ca if you spend over $25, on the patterns/prints that are Prime eligible. The Prime eligible selections are free with no minimum purchase if you're an Amazon.ca Prime Member. Don't forget about the Amazon Prime Student Membership, too if you are a student! There are free trial offers (with literally no obligation!) for both memberships. Otherwise, shipping on one of these will start at around $4.99 (if it's Prime eligible and if not, shipping will vary.)