Updated: 06 July 2016 14:04
What is Amazon Prime And Is It Worth It In Canada?

Edited: There's a new perk included now that changes up the game - Amazon Prime members will now receive a 20% discount on game pre-orders, including special collector's edition games! If you don't have Prime, you can grab the 30 day free trial here to claim this discount.
Is the annual cost of an Amazon.ca Prime membership worth it? It costs $79 for one year, with an initial free 30 day trial period for new Amazon Prime members. The breakdown for a 12 month membership is only $6.58 per month. (Plus, you receive that one trial month for free.)

Even if you order only 10 items per year, you will break even on the free shipping alone but still reap all of the benefits of Amazon Prime for the entire 13 months!

The resounding answer is yes - it is definitely worth it.
______________________________________________
___________________________________________________
No more order top ups:
Typically you have to top up an order to get it to over $25 to receive free shipping on an order. With Amazon Prime, you can order any Amazon Prime eligible product with no minimum purchase required, and receive free shipping.
Free shipping no minimum purchase:
The other savings you receive from being an Amazon Prime member is of course, when you don't have to pay any shipping, even when your order is under $25 (on Amazon Prime eligible products, and there are many Amazon Prime eligible products available in all categories of shopping.) I have had items that are around $5 ship to me for absolutely free.
Prime Eligible Products Refined Searches:
As a Prime member, you can easily refine my search to include only Amazon Prime products. This means that products that have additional shipping charges will not show in that search, making it easier than ever to shop with free shipping with no minimum purchase required.
Faster Shipping:
Did you know that Amazon Prime members receive their orders faster than non members? You will receive your order in only 2 days to most locations. You sometimes will have an option to pay a small fee of around $3.95 if you want even faster, 1 day shipping. Sometimes the shipping speed really matters! For example, a toilet flush lever was needed sooner, rather than later. The convenience of such fast shipping means that I can order household supplies (even toilet tissue and garbage bags!) and trust that they will arrive in a timely manner.
Guaranteed Shipping Date:
A guaranteed shipping date is shown when you place your order. If it happens to be late, (occasionally can be a day or so late, depending on the carrier), then I go to Amazon.ca and get into a quick online chat with a friendly Amazon representative. They usually offer to extend my Amazon Prime membership by one month, for the inconvenience. Or, sometimes a $5 Amazon.ca credit is offered. There appears to be no set protocol for what is offered for late deliveries on a guaranteed delivery date, but in my experiences they have offered the above.
Unlimited Online Photo Storage:
There is also an unlimited online photo storage feature on Amazon Cloud Drive that you will want to look into when you sign up for your Amazon Prime membership. The service is included with your Amazon Prime membership. You can store precious memories online, with ease.

Early Access/Exclusive Deals:
Other advantages to being an Amazon Prime member include early access (30 min.) to the lightning deals that Amazon.ca offers on a regular basis, or, exclusive savings that are offered only to Amazon Prime members, such as those deals that are coming up on the highly coveted Amazon Prime Day, which falls this year on July 12.

There is no obligation at all when you join, as Amazon Prime generously provides you with a free, no obligation 30 day trial that you may easily cancel at any time without even speaking to a representative. (Unless you live in Quebec, where there is a no free trial, but a 13 month membership is available instead, for $79.)

I admit when I first signed up for my free trial, I had planned on canceling before I was charged the annual fee of $79... That was over three years ago though, and I've been enjoying my Amazon Prime membership ever since. Amazon Prime is such a handy service, I would never be without it now.
An Amazon Prime membership may have save you money since you may not shop in-store as often for purchasing household items and gifts - it seems to curb impulse buying.
This is pretty much how I felt when I received my first package, shipped free, for being an Amazon.ca Prime member: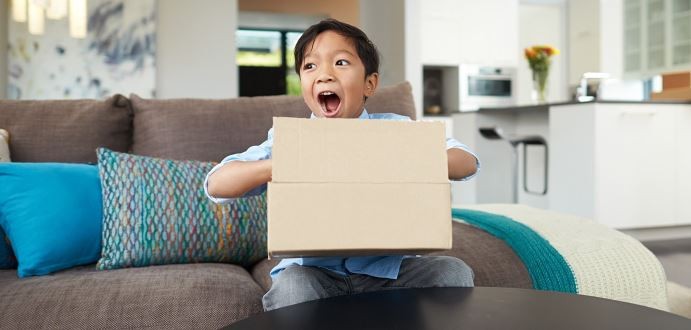 I'm sure you will enjoy your Amazon Prime membership as much as I do! If not, you are free to cancel at any time.