netTALK Duo Canada Review: Saving Money on Your Phone Bill was Never Easier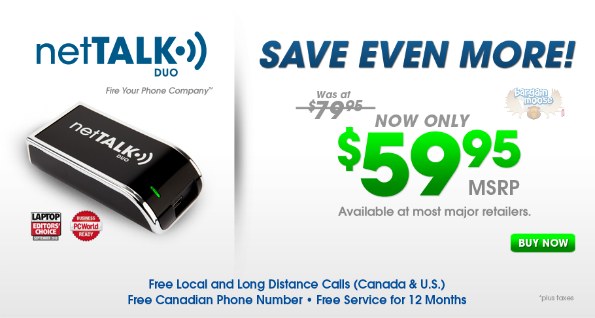 I got the awesome opportunity to receive and review a netTALK Duo. It is a simple gadget you plug into your router or your computer (router is better) and with a few short steps you get unlimited calling in Canada and the USA for $40 a year... WOW.
I really, really think this product is awesome. You can save an incredible amount of money for anyone who makes long distance calls or has family that lives far away.
I love this product because:
It is cheap! For $59.95 for your first year, then $40 a year after that, it is amazingly cost effective.
Yup, you get both the gadget and your first year of US and Canadian long distance for just $60. After that it is $40 per year to renew. My cell phone is $40 a MONTH! I am totally loving this system. What is even cooler is you can add on an international package for just peanuts: $120 per year for calling to 60 countries!
My hubby has family in Hamilton and he called there a couple of times with absolutely no problems. The quality is there: I can make calls across the country and it sounds fine. The odd bit of disruption but very little. They say the best quality is when you plug in directly to the router/modem rather than relying on wifi. I totally agree.
The number doesn't have to be local to me!
This was like icing on the cake: my hubby has a large portion of his family in Hamilton, and we live in Edmonton. We made the number local to Hamilton, to encourage his family to call us more! That totally rocks!
Really, these guys have it down pat! You get a little card that has 10 steps to setting this thing up - it took me only 20 minutes to do it. The longest part was figuring out what area and city codes were local to Hamilton: I suggest you come prepared with that.
An added bonus: great customer service. I have been experiencing an amazing amount of really crappy service lately from a lot of companies. However, I got an awesome call from netTALK Duo and they were amazing, very helpful, and told me to call if I had any questions or problems.
So to sum up: I had pretty much sworn off home phones but this has me re-converted. Even my hubby is pretty happy and says it is certainly a keeper. For $40 a year (or $60 for the first year) it easily pays for itself if you have any family living a long-distance call away from you. An easy way to save money and what a deal!