Convenient, Safe Wall Mounted Charger 50% Off @ Amazon.ca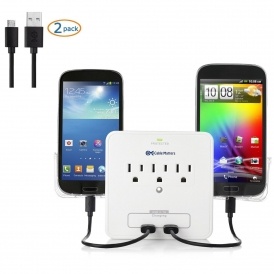 One thing that I am cautious about as a mother and pet owner is when small children or pets are around mobile phones that are plugged in and charging within reach. Can be dangerous to the little-ones and also risky for your phone! This wall mounted USB charger is a great way to keep devices away from curious little hands and you can get it from Amazon right now for just $19.99, down from it's regular price of $41.99.
This handy charger allows you to plug the charging device into an outlet with the phones resting in holders that conveniently slide out from the sides and can be placed up high into outlets safely out of reach of children and pets. The charging cables for your phone will not get tangled up and in your way with this device.
Even though it only has one electrical prong on the back, you can screw in the removable wall tap screw for an even more secure placement. It has a grounded plug. There is a green light in the front so you can see if the surge protection is on and working.
Two 9" micro cables are included, suitable for phones such as Android, that are 5" or smaller. If you have an iPhone that is 5" or smaller (not the 6 Plus or the 6S Plus) you may use your own Apple certified lightning cable.
This item is small, shipping would be minimal and varies, depending on where you are located in Canada. However, if you spend an additional $5.01 at Amazon.ca, you will get free shipping. Maybe you know someone who could use one of these, then shipping would be free with the purchase of two.
(Expiry Unknown)