Petsmart Canada: 50% Off Dog Beds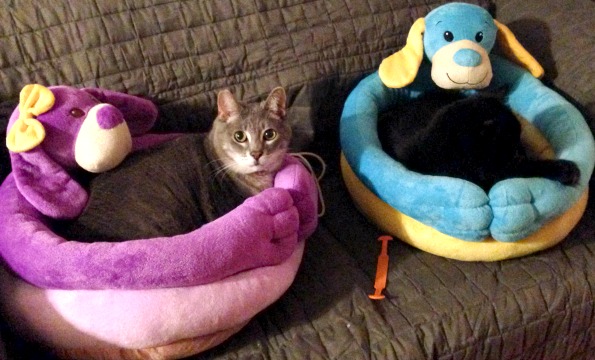 Petsmart Canada is offering 50% off a selection dog beds just in time for you to stick something comfy under the tree for your pooch. As per usual with Petsmart, you order online and pick-up in store.
There is a plethora of beds on sale and the prices cannot be beat! For anyone on a tight budget, these first few deals are for you. The Grreat Choice Pet Holiday Dog Bed was $21.99 and is now $10.99. For small to medium pets, this bed comes in assorted colours. The Grreat Choice Cuddler Dog Bed is just like the above bed but not in Christmas colours. Originally $21.99, this bed is also on sale for $10.99.
For medium-size dogs, there are quite a few good options. The Grreat Choice Corduroy Dog Bed is 33" x 45" in size and makes a comfortable pillow for your pet to sleep on. Originally $43.99, the bed is now on sale for $21.99. Kong also makes fantastic dog beds and you can choose from two different styles. Both the Kong Bed (1) and the Kong Bed (2) were $65.99 and are now on sale for $32.99. They can handle medium dogs up to about 80 lbs.
If your pet is a pampered prince or just needs a little extra comfort, then this Martha Stewart Pets Beautyrest Napper Dog Bed will be a big hit. These beds usually cost a small fortune but you can buy this one for just $38.49, originally $76.99.
These beds are good for more than just dogs - large cats can also enjoy the comfort of a dog bed. The smaller ones from Grreat Choice work well for large tomcats. We have two big boy cats that weigh in around 18 lbs each. Rather than pay twice the price for a large enough cat bed, we scored two dog beds for $10 each. The cats do not mind and they actually fit in the beds.
I know it can be inconvenient to have to go pick-up your order from Petsmart, but I am still very excited about this deal. It is nice to find such amazing deals online and be able to secure your savings without having to take a trip to Petsmart just in hope they still have some in stock. Too often, I have gone to buy something and it is OOS by time I get there. This way, it is waiting for me to arrive!
These are clearance beds so I am not sure when the promotion ends. The 30% off bed sale ends tonight, so it could end at the same time.
Image credit: Avigayil Morris
(Expiry: possibly 18th December 2014)