Petcetera Deal: Free Bag Of Treats With Dog/Puppy Training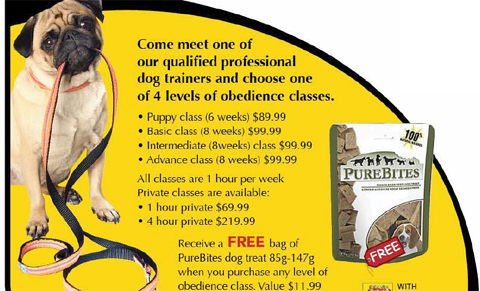 Attention dog owners: you can choose from Petcetera's 4 levels of obedience classes to suit your dog's needs and receive a FREE bag of Purebites natural dog treats (it's worth $11.99).
If you sign up for any class with a Petcetera professional training you also get the FREE bag of natural dog treats, perfect for training with. All you have to do is sign up for the free Membership (which also give you discounts of up to 60% off merchandise) and show your membership card when you go in for your class.
Group classes to choose from:
Puppy class (6 weeks) $89.99
Basic class (8 weeks) $99.99
Intermediate class (8 weeks) $99.99
Advance class (8 weeks) $99.99
Private classes:
1 hour $69.99
4 hour $219.99
In comparison to other dog training classes, these are a great value! Training is also easier when the treats are delicious and natural meat.  I`ve been getting my Siberian Husky Purebites since I first got him and he loves them. I also put some in his dry food for extra appeal.