Petcetera Canada: $25 Gift Card on $100+ & Inventory Blowout Deals up to 80% Off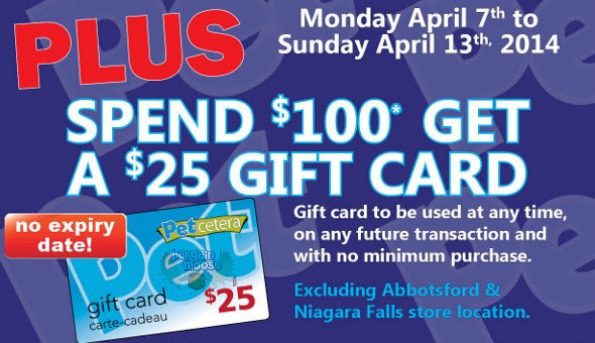 Not only is there are great free gift card deal this week at Petcetera Canada, there is also an inventory blowout sale as well.  You will get a free $25 gift card when you spend $100 or more on almost everything and you can also save up to 80% on items with their inventory blowout sale.
The free gift card will be given on almost all purchases of $100 or more.  It excludes the purchase of gift cards, services or adoptions, but anything else you buy will get you this free gift card. The free gift card has no expiry date and you can use it on any future purchases with absolutely no minimum charge required.
Additionally, I mentioned that there is an inventory blowout sale.  They have deals on up to 80% off right now.
Pet fashion 80% off
Cat toys 70% off
Up to 60% off cat litter
Up to 50% off dry cat & dog food
Pet life jackets 80% off
I laughed when I saw that they have all pet life jackets on sale for 80% off but I guess they are pretty popular for people that like to go boating. One of the great things about this blowout sale is that you can use any of these items towards the $100 purchase to get the free gift card!
(Expiry: 13th April 2014)