Pet Only Canada: Pet Clothing & More on Sale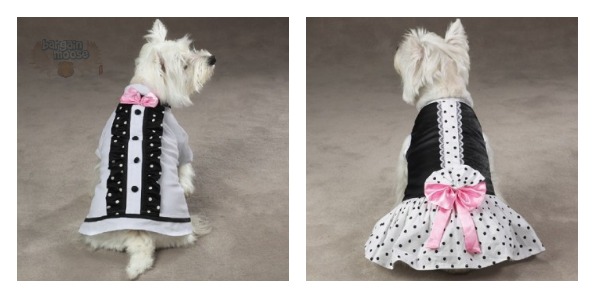 Halloween is just over a month away, so pick up some fun pet costumes and clothing in this sale at Pet Only Canada.
You can tell I am totally in a pet mood today because this is my second pet oriented post today! I just cannot help it; I adopted a second cat two weeks ago. Ever since I adopted Gaiman, I have been re-obsessed with pet supplies. Oddly enough, I keep finding better deals on dog stuff than cat stuff.
Do you have a tiny to medium sized dog? You just have to buy this East Side Collection Dog Cocktail Party Dress (pictured above). This dress is so adorable it hurts. It can be used as a costume for Halloween, or just for fun. These costumes for dogs come in different sizes. Here are the sale prices for each size.

XX-Small: Was $20.99 | Now $15.99
X-Small: Was $22.99 | Now $17.99
Small: Was $24.99 | Now $19.99 (OOS)
Medium: Was $26.99 | Now $21.99
They have length, chest, and neck measurements for each size. That way you can make sure to get the right size for your dog. The smaller sizes will even fit larger cats too!
Do you have two dogs? Buy the matching East Side Collection Wedding Party Best Man Shirt for the same price as the dress above (also pictured). All sizes are in stock for the best man shirt.
There are some other super cute deals in this sale section. For an inexpensive doggy shirt, pick up this East Side Collection Ruffles & Dots Camis starting at just $6.99 (was $10.99) on sale. Prices increase with size, but even the largest camisole is just $8.99.
The Casual Canine Ruffle Dog Polo Shirt is too cute. The dog pictured in it looks just darling! Size X-small is on sale for $10.99 (was $14.99) and size small is on sale for $12.99 (was $16.99).
Check out this Casual Canine All-Star Dog Jersey - LARGE for only $10.99, originally $14.99. This jersey will fit a dog with a 16" to 20" neck and a 24" to 30" chest. It is also 24" long.
Tops can also help keep shorthaired dogs warm in cooler weather. They are both fun, and have a practical side as well.
Pet Only Canada offers free shipping on orders of $79. For orders less than that, shipping starts at just $5.99 depending on your province. Ontario and Quebec are cheapest, with other provinces a bit more expensive.
(Expiry: Unknown)