EXCLUSIVE: BowzerBox Coupon Code: $10 Discount (Pet Subscription Boxes)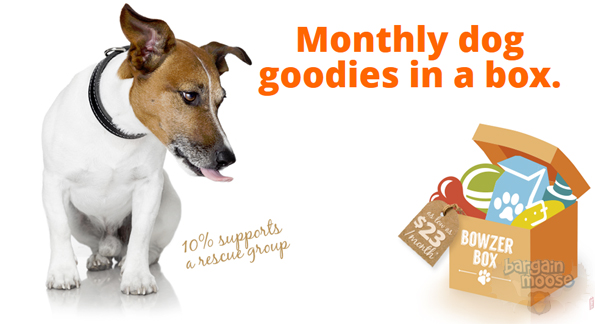 Subscription boxes are becoming more and more popular these days. You can get monthly subscriptions of pretty much anything you can imagine, from cosmetics to snacks. And guess what? Now your pets can get a subscription box too! Bowzer Box is a Canadian company based out of Ontario which ships a monthly box of treats for your doggie. And we've set up an exclusive Bargainmoose coupon code which will save you $10 on your first box! Here is the info:
Click here to use the BowzerBox coupon code online now
Coupon Code: MOOSE10
Discount: $10 off
Expires: Unknown
In your pet's subscription box each month, you will receive five to six dog treats, toys, and accessories.
Here's a little blurb about BowzerBox Canada and what you get:
As dog owners we take pride in selecting the best treats and toys to deliver in your monthly subscription. With our pup in mind, we choose goodies that we know your dog will love too.
If you're just ordering one box on its own, the regular cost of the BowzerBox is $29. With the above coupon code, you will be able to order the box for only $19 plus the cost of shipping, which is a flat rate of $4.50… therefore $23.50 for this first box. If you order a longer subscription, this reduces the cost per box.
But if you're not sure about signing up to a longer term plan, then it could be worth making use of the above coupon code to try out the service for one month and see what it you think of it… or see what your dog thinks of it. BowzerBox plans automatically renew so you will need to remember to cancel it when you are ready.
You can tell them the size of your dog (small, medium or large) and Bowzer Box will send you appropriate goodies and treats based on that. The price is the same though, no matter what size your hound might be.
The charitably minded amongst us will also be pleased to hear that BowzerBox also give 10% of their profits to animal charities and organisations, such as local animal shelters, outreach programs and NPOs. You can even suggest an organisation to them, to see if they can help out.