Cat Lovers Unite! $7.50 Cat Desk Accessories @ Amazon.ca - Reg. $15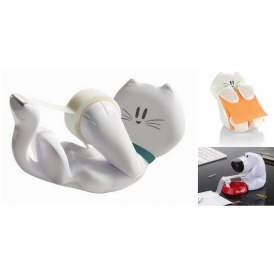 There is just something so sweet about these cat desk accessories that I couldn't resist them! Selling at 50% off, for only $7.49 each, they make the cutest desk accessory for any cat lover. Sometimes it just makes a person smile to look at these and sometimes that is exactly what a person needs! The cat Scotch Tape Dispenser rolls back and forth like a real cat would do!
I also found this dog Scotch Tape Dispenser. It's selling for a little bit more, $10, but is worth it! I love how the tape rolls off of the dog's tongue! So cute.
You can always add on these colourful Post-it note refills, for $8.91 to top up your order to over $25 to receive free shipping, if you purchase the entire trio.
Shipping on one of these desk accessories was just over $5 and will vary depending on your shopping cart and location. I would suggest topping up your cart to over $25 with Amazon eligible products to receive free shipping. Of course, Amazon Prime members enjoy free shipping nonetheless.
(Deal Expiry: Unknown)