3 Way Fun Run Cat Tunnel Toy Now $10 (80% Off) @ Amazon.ca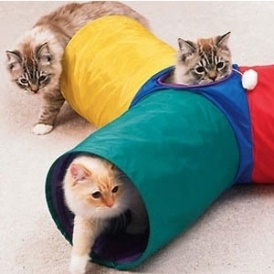 I've been wondering how to exercise my cat lately, and this looks like the perfect solution! The Cat Tunnel Toy - 3 Way Fun Run is on sale for 80% off at Amazon.ca. You'll pay just $9.95 for a perfect way to entertain your cat or kitten!
The Cat Tunnel 3 Way Fun Run will keep your feline friends entertained by playing interactively within the tunnels. With toys like this - the more cats, the merrier. I know my two cats would have a blast.
This is also a great way to prevent your cats from scratching or being destructive, which is quite commonly a trait of being bored. The 3 way tunnel is collapsible for convenient storage, and has a peep hole in the centre. I can picture my one cat peeking out as my other runs through the tunnel. So much fun!
This Cat Tunnel Toy is sold by Premium Choice Products CA and fulfilled by Amazon. So, if you spend $25 or more - you'll get free shipping.
(Expiry: Unknown)