MotherWord 2018 Family Calendars Out Now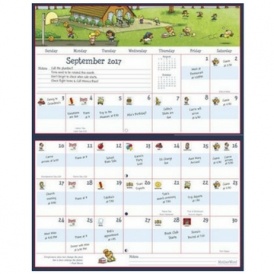 The kids might be settling into their school routine, but activities are just getting started. If you want to keep your sanity and get all the hockey practice, soccer game and piano lesson schedules straight, you need one of these MotherWord family calendars – and you can get them at Walmart.ca from $11.97!
My mom used one of these calendars every year for as long as I can remember, and I still swear by them!
Each 18-month MotherWord calendar even includes at least 500 "Little Reminder" stickers to help you mark all the most important events, like dentist appointments, dance recitals and family vacations!
Check out these ones:
I love that you can see an entire month all at once – and you don't even need to log on to any programs or wait for your battery to charge to look at this calendar!
These calendars are also available at Amazon.ca, but I definitely prefer Walmart Canada's prices! French versions of these calendars aren't sold online, but you might be able to find them in stores.
Some calendars are already out of stock online at Walmart.ca, so make sure you get your orders in early if you don't want to miss out on one of the remaining ones!
Orders over $50 ship free.