Car Seat Organizer Now $11 @ Amazon.ca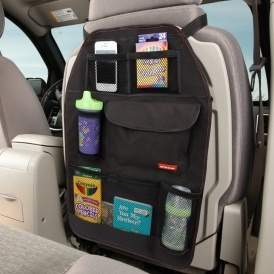 Where did I put those wipes? Where did that soother go? These are questions that will be of the past! Get your hands on the Diono Stow 'n Go Car Organizer for a whole new level of car seat organization. Today, these nifty items are even on sale for just $11.04 each.
The Diono Stow 'n Go Car Organizer has two purposes. One - to protect your seats from little feet that like to kick the back of them. Two - to organize some odds and ends. They are easy to install, and fold down for easy storage when not in use. For the low price of $11.04 you can only get black, but who's complaining about that colour option? Black goes with everything!
As you can tell by the image, these Stow 'n Go Car Organizers would be great for road trips and even for everyday uses. Store everything from crafts, snacks, to books and bottles. There are six mesh pockets of different sizes and one pocket with a velcro cover as well. Maybe this will mean that I don't have crayons and sippy cups allover the floor of my vehicle anymore!
These Diono Stow n' Go Car Organizers are shipped and sold by Amazon.ca - so you Prime Members will get free shipping and everyone else will get free shipping on orders over $35.