10 BlueCross Babi Pregnancy Test Strips Just $6.70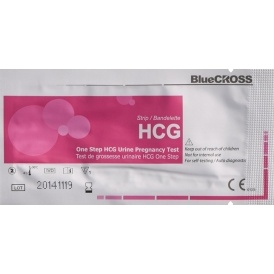 We all know how expensive these little tests can be, don't we Mamas? I know women who have been trying to conceive for a long while and have spent enormous amounts of cash stocking up on pregnancy test strips! This lightning deal at Amazon.ca today has 10 packs of FDA approved BlueCross tests (in case you want a break from those dollarstore tests!) for just $6.70... that's less than a dollar per test!
Keep in mind that these are not like the fancy tests that come encased in plastic and have a digital screen! They won't even show you a little pink cross if positive, but they are an environmentally friendly option and reviews indicate that they work perfectly well. If you need a lot of tests for whatever your personal reason, could be a good time to stock up.
Shipping is only free after $25 on this deal, so combine it with a few other items if you want to avoid the fee.
(Expiry: April 4, 2016)