Update:

Global news has reported that a Samsung phone overheated and was smoking, causing evacuation of a Southwest Airlines jet that was preparing to take off from the Louisville airport on Wed.
Samsung Electronics Co. said in a statement that it couldn't confirm that the latest incident involved a new Samsung Galaxy Note 7, however, Global news reported that a woman stated that it was her husband's Galaxy Note 7 that made popping noises and started to smoke after he powered it down while the plane sat at the gate. She also claims it was a new replacement phone sent a couple of weeks ago.

Mobilesyrup has reported that in just days after the recall, 70 percent (of the 22,000 Note 7s sold in Canada) are included in the recall.

If you're still using a Note 7 purchased between August 19th and September 1st 2016, the latest software update will cause a notification to pop up every three hours, reminding the user to exchange their smartphone.
Samsung has recalled 2.5 million Galaxy Note 7 phones in 10 countries, Canada included.
It has been confirmed by Samsung that 35 Note 7 phones have either exploded, or caught on fire. This danger is present within the phones due to defective batteries from one supplier.
Although there have been no reports of this happening in Canada, Owners of the Galaxy Note 7 in Canada can exchange it for a new one of the same model. It may seem inconvenient but from the image below of this phone you can see it's not something you would want to take a chance with!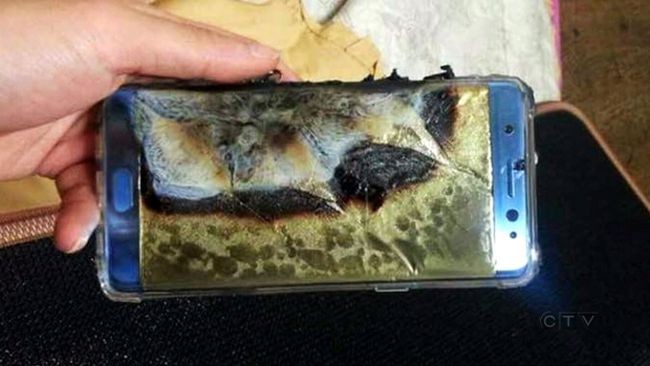 (Image credit: CTV News)
Another option offered by Samsung is to exchange a recalled device for a Galaxy S7 or Galaxy S7 Edge. You can do this through the carrier or retailer that sold the device.

These phones are popular and if you have a Samsung Note 7, you'll need to get the exchange processed. You may have friends and family who have this phone model so share this info. with them in case they are unaware of the recall.
Samsung Galaxy Note 7 owners can initiate the exchange by visiting this website:
You may also contact Samsung toll-free at: 1-800-517-3507.