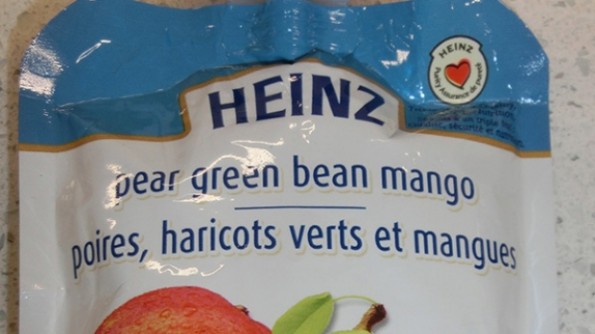 Oh no! I always get so worried when I see recalls on baby food, don't you? Right now there is a recall on the Heinz Pear Green Bean Mango squeeze baby food. Why? For risk of spoilage, yuck! It is non harmful spoilage, but I surely wouldn't want to feed that to my baby either way.
The recalled Heinz baby food was distributed throughout Canada, so if you have purchased the Heinz Pear Green Bean Mango Squeeze Baby Food recently, then keep reading because it was reported and recalled for microbiological non harmful spoilage. They say that it just effects the quality, but do you honestly want to feed your baby spoiled food? I didn't think so. So here are the provinces involved in this recall:
Alberta
British Columbia
Manitoba
New Brunswick
Newfoundland and Labrador
Ontario
Quebec
Saskatchewan
They have been thinking about recalling this product since August 7th, and it has currently been updated to include all of the listed provinces and they have added some new information to the issues as well. This is a Class 3 Food Recall. So basically this all started when a consumer complained about the product. Then the CFIA conducted a food safety investigation which led to the recall of the products. There have been no illnesses reported due to the consumption of this product. The spoilage seems to be caused due to the potential loss of the seal.
I personally never fed these squeeze packs of any brand to my kiddo. I had seen a lot of issues all over Facebook while I was pregnant regarding these things going back or getting maggots or something, so I just steered clear. For the most part I made baby food myself with my Baby Bullet, which actually saved me a lot of money but consumed a lot of time. To each their own. So go ahead and check to see if you have this recalled product in your home. You can either throw it out or return it to the store where you purchased it from, but please do not eat it. If you know of anyone who buys this stuff then you best let them know about the recall, just in case they don't already know.