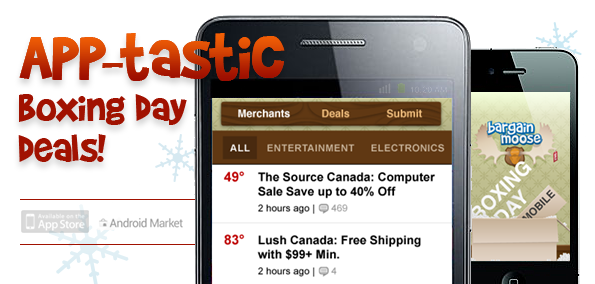 This is the best week of the year to be a Bargainmooser - it's Boxing Week! The deals from Canadian stores should be super, and they've already started showing up over on the deals forums. We've already seeing the Moosers sharing deals about all our favourite stores, Old Navy, The Source, Sears.ca and more. I'm also posting some exclusive offers from Canadian boutiques, you can see them in the forums too.
And we've had our trained development monkeys working overtime in preparing some lovely techie tidbits for you to use - a Boxing Day Sale Dashboard and a Boxing Day mobile app!
First of all, the Boxing Day dashboard is for using at any time over the Boxing Day period. It will gather together Boxing Day sales from many stores, so you can see the deals at a glance. In addition, you can drill in a bit further to see all the deals posted on the forums - you might catch some super bargains in there.
Secondly, our new app! You can download the Bargainmoose Boxing Day app through iTunes or the Android marketplace. The app collates all the Boxing Day information from the aforementioned dashboard, but it's easy to use when you're out and about.
If you know of a great Boxing Day deal, please don't hesitate to share it on the Bargainmoose forums! Alternatively, you could be brave - if you spot a deal in-store, share it on the Bargainmoose app!
P.S. Check back with us tomorrow night - we should be starting a fantastic Boxing Day Bargainmoose contest, in which we are giving out another bucketload of prizes!