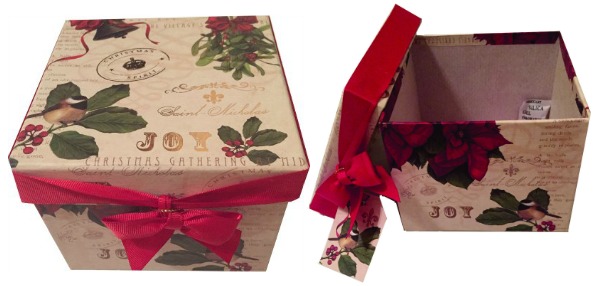 Over the Holiday season, did you buy any of the Ashland Holiday Paper Boxes from Michael's stores? If so, then you will want to check out this recall. Michael's and Health Canada have joined to recall this product for potential health risks. The box came in 9 different themes and three different sizes, so if you purchased any then you are going to want to return the box and get a refund or exchange.
There were approximately 288,000 of these products distributed throughout Canada and the United States, so it is quite likely that someone you know has purchased one of these Ashland Holiday Paper Boxes. The recalled products were sold at Michael's Stores in Canada and the United States between October 2015 and November 2015.
These recalled boxes may contain Aspergillus mold - yuck! This mold poses a risk of respiratory infections as well as other infections in individuals who already have health problems or weakened immune systems. So far, no reports of illness have been made. It is definitely better to be safe than sorry though, so return your Ashland Holiday Paper Boxes to your local Michael's Store as soon as possible to prevent any sickness in your home.
The list of affected products can be found through the link above. These boxes were made of cardboard and wrapped in decorative paper with ribbon accents and other embellishments like burlap. You can find the "SKU" number on the bottom of the box. There should be a white UPC sticker and then you can tell if your purchase is part of this recall or not.
Moosers, do you know anyone who purchased one of these Ashland Holiday Boxes?!