iTunes: Years 5 Biggest Albums for only $6.99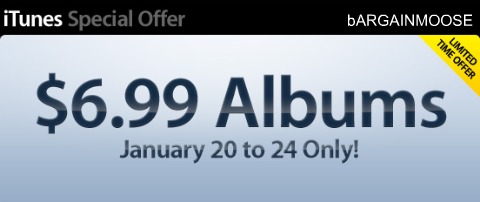 For a limited time only, January 20 - 24th iTunes has stuck last year's 5 biggest album's on sale for only $6.99. So remember the year 2010 fondly while listening to your favourite songs from it.
Here are the 5 albums you can get at the peanuts price of $6.99 each:
Grenade by Bruno Mars is a fantastic song that if you listen to the radio you have probably heard. Excellent messed up love song in a way. Just The Way You Are is highly over played on the radio, but also a really popular song. Singles for these cost $1.29 so the album really is a steal. I am not really a fan of the rest of the albums, but their is a good mix here, from dance, hip-hop to country.. something for everyone's tastes.