Steam: 75% Off + Free Play Weekend Games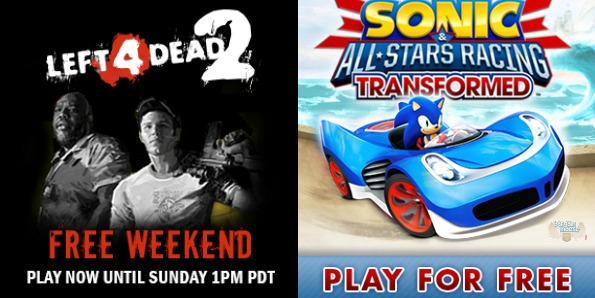 Steam Powered is offering 75% off Sonic and All-Stars Racing Transformed, plus enjoy the free play weekend where you can download and play the full game for free till 1pm PDT on Sunday, 7th July 2013.
This is a try it before you buy it sort of deal, which truly makes it awesome. You can test drive the game this weekend and then purchase it for 75% off if you like it. Originally $29.99 the game is on sale for $7.49 USD.
You can also get 75% off Left 4 Dead 2 and enjoy it this weekend as well via the free play weekend. The free play and the deal end 10am PDT 8th July 2013.
Originally $19.99, the game is on sale for $4.99 USD this weekend. I couldn't find the free play links through those specific links, but they are on the front page of Steam (right hand side) so should be easy to find. You must have Steam installed to play these games for free.
(Expiry: as shown above)