Quentin Tarantino Ultimate Collection For $17.99 & Free Shipping @ Shop.ca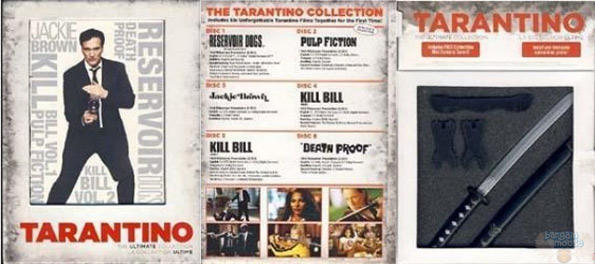 After the great deal on The Hunger Game trilogy that I mentioned yesterday, I was browsing round Shop.ca to see if they had any more launch offers worth mentioning. I spotted this deal in the movies section - you can get The Quentin Tarantino Ultimate Collection DVD boxset down from $69.99 to only $17.99 with free shipping,
The deal is actually shipped from inetvideo.ca through Shop.ca, so a reputable retailer. On there, it is also priced at $17.99 but shipping is extra. The real deal sweetener on Shop.ca is the totally free shipping with no minimum spend.
Blurb:
Quentin Tarantino - The Ultimate Collection (Boxset) This Collection Includes Unforgettable Tarantino Films Together For the First Time! -Reservoir Dogs -Pulp Fiction -Jackie Brown -Kill Bill Vol.1 -Kill Bill Vol.2 -Death Proof Includes FREE Collectible Mini Samurai Sword!
There are some totally excellent movies in there, some that are already on my DVD shelf. But I DON'T have a mini Samurai Sword... I must get me one of those! I think Kill Bill is one of my top ten movies of all time. Any Moosers here who are also Tarantino fans?
Please note that the Shop.ca website is still running a bit slow for me, sometimes making Firefox freeze up on me, but you should be able to persevere and get through checkout.
(Expiry unknown)