Free Movie Ticket When You Purchase a Minimum of $15 & 15% Off Digital Downloaded Movies/Discs @ Cineplex Boxing Day Sale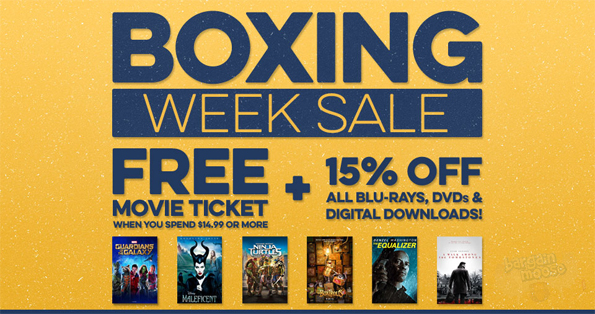 This deal is like a salad buffet full of choices. Spend a minimum of $15 @ The Cineplex Store and you will receive a free Cineplex movie ticket.
This deal has several different components folks, and you get to pick all your toppings as you go along. The basics of the deal are if you spend $15 you get a free movie ticket voucher to a Cineplex theatre. You have several different options for your $15 purchase. You can rent and buy films in standard format or HD format that you then download to your computer. You can also opt to purchase a DVD or Blu-ray disc format for most films. Most films on disc are on sale for 15% off. If there is a new title you were hoping to see or own, they most likely have it in stock. Some stand-out popular films available include:
Frozen- The Sing Along Edition
American Hustle
The Hobbit: The Desolation of Smaug
The Hunger Games Catching Fire
Guardians of the Galaxy
Despicable Me 2
This Is Where I Leave You
And much, much more… this list could go on and on!
Additionally if you start seeing many title you like, by spending $27.99 or more you get 2 free movie ticket vouchers. I do not know if you have priced a movie ticket lately but on average, they run about $13 to $15 per ticket if you just go to see a basic movie without IMAX, 3D or anything else fancy. The only item you cannot purchase with this sale is gift cards. You will have to enjoy some movies at home and others with a theatre experience for this deal.
I really like being able to add digital downloads to this purchase. I personally have been trying to condense my media into digital formats just so I do not have to store all of the discs. We often plug a flash drive right into the Blu-ray player to have a movie night these days. I have not noticed a whole lot of quality difference from the digital downloads compared to a disc. I also do not have a ton of whistles and bells on my home entertainment system so if you do, you may notice bigger differences.
To add further to the deal, Cineplex also has a list of digital doorcrashers. These select titles range in discounts but appear to be from 40% to 60% off for buying a digital downloadable copy. There are some good titles in here include:
Man of Steal
Into The Storm
The Lego Movie
Gravity
Blended
Horrible Bosses
Harry Potter and The Deathly Hallows 1 & 2
Harry Potter and the Prisoner of Azkaban
Score this deal now before it is gone. Have a movie night at home and out on the town. Check out the rest of our great Boxing Day Deals in the forums.
(Expiry: 2nd January, 2014)