Sportchek Canada: Free Shipping On Mother's Day Gifts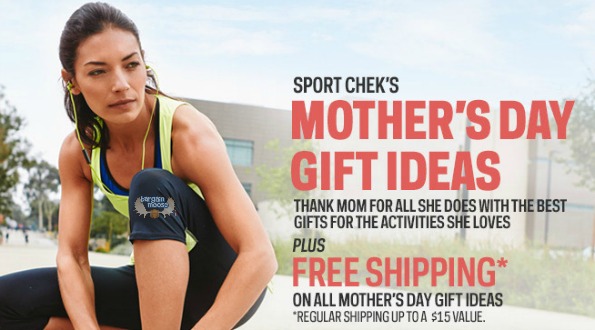 Sportchek has a very enticing deal on right now to save you money on your Mother's Day gift purchase. Technically, the gift doesn't have to be for Mom, it just has to come from the Mother's Day gift ideas on the Sportchek website, and you'll score free shipping. This is a pretty sweet deal as free shipping is normally on a $99 purchase. You just have to add one of the gift ideas to get free shipping on your whole order (even if not all the items are on the list).
Being a mom, I of course looked for some gifts that I would love this Mother's Day. I am interested in a wide range of fitness activities so something that will promote me working out is always a good gift idea in my books.
I've always wondered if I could benefit from a Fitbit Zip wireless activity tracker. I've heard so much buzz about this and while I wouldn't buy it for myself, I think this makes a great splurge as a gift. Not just a pedometer, it tracks your distance and calories burned too. Once you sync your information, you can compare it to other days, motivate yourself and engage in competitions. $59.99
A new tank is always a welcome addition to my wardrobe and I'm loving this Diadora Yoga Virsana two layer tank. My only problem? Purple, green or black? $44.99
With many different categories of gifts including fitness, yoga, golf, tech accessories and lifestyle, I know any mom would love a gift shipped for free from Sportchek.
(Expiry: Unknown)