20 Roses And Gorgeous Milk-Glass Vase for Mom, $60 @ Costco.ca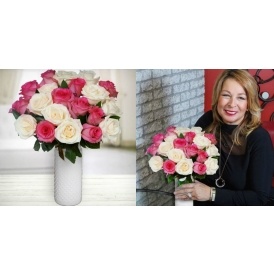 I love giving a traditional gift of fresh flowers to my mom on Mother's Day and saving $15 on a gorgeous rose bouquet makes it all the sweeter! This gorgeous Love and Devotion Bouquet from Costo.ca, is just $60 and includes free delivery! It comes with 10 pink and 10 white long stemmed roses, each 50 cm long. I like that colour combination over the more traditional red rose, which is usually reserved for romantic gestures anyway.
The included vase is beautiful, (see photo) and is inspired by vintage milk glass which was first made in Venice in the 16th century. Any mother or special person in your life would really enjoy receiving a rose bouquet for Mother's Day. Gift messaging is available during the checkout process, and a gift message card is included.
It's a nice touch that these flowers arrive a few days in advance of Mother's Day. It shows your mom you were on the ball and didn't forget and order at the last minute! You can select one of these dates for delivery for Mom or someone else who is special to you during the checkout process:

Wednesday, May 4, 2016
Thursday, May 5, 2016
Friday, May 6, 2016
There are some delivery restrictions though, so please proceed to checkout to verify if delivery is available.
(Expiry Date: May 3, 2016)