La Vie en Rose: Flannel PJs B1G1 50% Off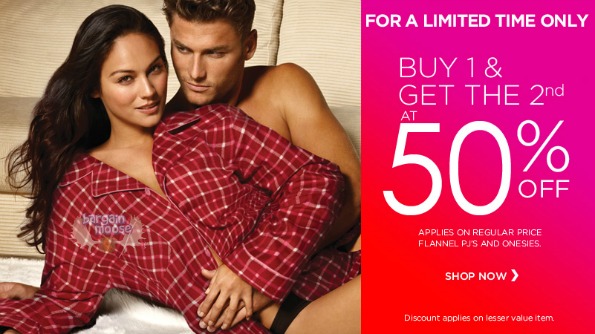 Flannel PJs and Onesies are buy one, get one 50% off at la Vie en Rose for a limited time.
Get a pair of two-piece flannel pyjamas in a wide variety of patterns. Choose from nine different festive prints like penguins, country chalet and snowflakes. They have a button collar and elastic waist, making these ultra-comfy pjs. Regularly $29.95, get a second pair for only $14.97.
These light and ultra-soft Nordic Thermal one-piece pyjamas are warm and comfortable. Featuring buttons and back opening, get them with either black and white snowflakes or puppies and bows with red accents. Cute! Regularly $19.99, get a second pair for only $10.
Ever wanted to sleep like a baby? Now you can in this one-piece footed union suit. With a zipper in the front, hood and built-in slippers, these pyjamas are the definition of comfort. Regularly $49.99, get a second one for only $25.
If you have a LVER account, you can get a $25 discount on your next purchase, redeemable from January 21st to February 10th, 2013. See here for details.
Shipping is $8.95.
Expiry: Unknown