La Vie En Rose Canada: 3 For 1 Lounge & Sleepwear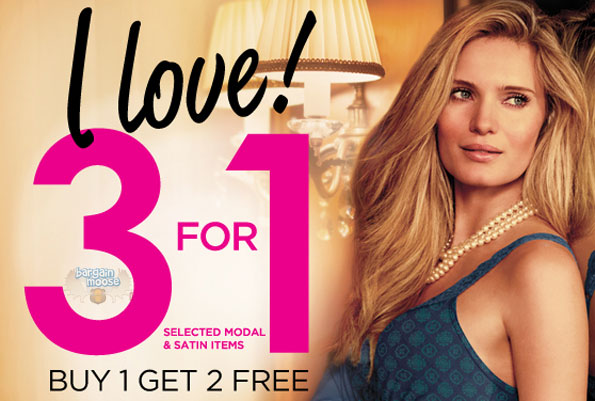 As the temperature has been dropping, have you been getting colder and colder at night but have yet to turn up the heat? Then get some new pyjama pants... and maybe a cami, kimono or any other lounge/ sleepwear that catches your eye because while supplies last, you can get 2 free sleep or lounge items with purchase of just one. Yes, you read that right: buy 1 and get 2 free!
I love love LOVE promotions like these as it makes opening the package once it arrives that much more fun. Paying regular price for anything isn't fun, but a 3-for-1 offer is definitely pretty amazing. As a test, I added three completely different items to my shopping cart and the only price charged was on the highest item: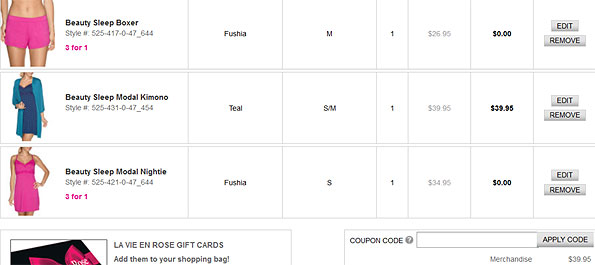 The items that I added were the beauty sleep boxer for $26.95, the beauty sleep modal kimono for $39.95 and the beauty sleep modal nightie for $34.95. These are also the kind or prices you can expect to see and you will only pay the price of the highest item in your cart. I also added six items to my cart to see what would happen and I'm happy to report that the discount does keep applying as you get more items, which means that you can get 4 free items with purchase of two and so on.
The way I see it is that without this promotion, you would be looking at an order total of $101.85, which means that paying just $34.95 actually amounts to a 66% discount!
There are a number of sleep and loungewear items to choose from but the one that particularly caught my attention is the beauty sleep satin nightie for $34.95. Don't be fooled by the name as it's not actually satin and is instead made entirely from polyester but I can nevertheless just imagine how great it would feel as it certainly looks like it has a satin feel to it. With triangle cups and adjustable straps, it's also a very short nightie as it is above the knee.
Shipping is free on orders over $75, otherwise a $9 shopping fee will apply. To reach that minimum threshold purchase and avoid paying the pesky fee, you can also have a look at La Vie En Rose's swimwear sale that I had written about a couple of days ago and which is still currently ongoing.
(Expiry: Unknown)