LEGO City Trains High-Speed Passenger Train $129.99 @ Amazon.ca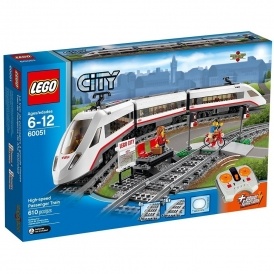 This set is going to be so much fun for the LEGO-loving kiddies out there. Set it up under the tree for Christmas this year!
The LEGO City Trains High-Speed Passenger Train is currently on sale at Amazon.ca for $129.99 down from $197 - which is 34% off. Discounts like that are pretty rare on LEGO sets, and these pieces will be played with for years to come.
Once built, this set will give you a High-Speed Passenger Train which in total measures over 4" high, 30" long and just over 1" wide. It also comes with some rail track as well as a train driver, traveler and a cyclist. With a total of 610 pieces - it might keep your hubby occupied for some time too while he helps the kiddos build it. Do I hear 'bubble bath time'? Maybe also some wine time? SOLD.
Since this purchase is over $35, you will also get free shipping and handling from Amazon.ca.