The Perfect Watermelon Slicer, $7.98 @ Amazon.ca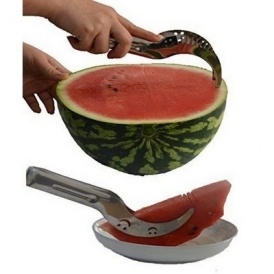 Watermelon is messy and drippy. It's worth it of course, especially on a hot day when all you can really think about is eating cold watermelon.
Check out this watermelon slicer that lets you slice watermelon in a way that lets you scoop closer to the rind and portions it neatly into slices. I like the little happy faces on the watermelon slicer, too. It's stainless steel and safe for the dishwasher, so it won't rust.
Amazon.ca Marketplace seller spectacularwonderful, is selling this handy slicer with a current price of $7.98, on Amazon.ca.

The above link is a little bit different than our usual links. This time when you click on the link, you need to then click on the part shown in the image below, where it says '16 new from.'

That list will then show you all of the Amazon.ca Marketplace sellers but as of now, only one seller has opted to fulfill this order through Amazon which will give you fast shipping, (instead of overseas which can take weeks.)
So... You need to select the one to add to your cart that shows seller spectacularwonderful, with a current price of $7.98. (The lower priced ones are ok too if you can wait several weeks for overseas shipping. Some of those ones are lower priced by a couple of dollars or more overall.)
If you're an Amazon Prime member shipping will be free, and if not, you might want to top up your order to over $25 to get free shipping. Otherwise shipping will cost around $7.25.

(Deal expiry: Unknown)