T-fal OptiGrill now $130 @ Amazon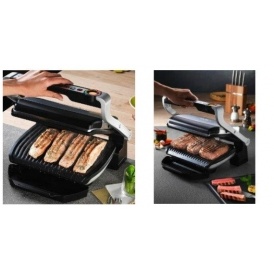 Barbeque season may be coming but if you like to grill year round -- or live in an apartment or condo where they're not permitted -- this is a fantastic deal at Amazon! The T-fal OptiGrill is down to just $129.99!
This little appliance almost has a cult following. It was apparently even on Oprah's 2015 list of Favourite Things. (So you know it's fabulous!) People rave about its being able to cook food well from frozen; and cook food of any thickness due to its floating hinge. It has pre-programmed settings to ensure proper temperature for whatever you may be grilling and two modes for frozen and thawed foods. Another huge selling point -- the plates just pop off and can be thrown in the dishwasher. I know I avoid using the grill we have because it's impossible to clean!
The lowest price I was able to find on this grill elsewhere was $150 at Best Buy and that's on sale for $50 off! You can save another $20 by getting it from Amazon.
The T-fal OptiGrill will ship to you for free!
(Expires: Unknown