(Save 55%) Sunbeam Die Cast Stand Mixer Only $82.95 Inc Shipping @ The Shopping Channel TODAY ONLY (EXPIRED)

While browsing The Shopping Channels deals on our coupon page here, I noticed that they have released a pretty good coupon code for this weekend. You can use MARCH50 to get 50% discount on their clearance kitchen, home and jewellery items. When having a look through the deals, my interested was piqued by this Sunbeam Die Cast Stand Mixer which was originally priced at $149.95.
Usually when we write the price on our titles in the Bargainmoose blog posts, we don't include the shipping costs but always make a note in the post itself. But today, I've chosen to include the shipping fees in the total shown above to try and give you an accurate feeling of the cost of this item. It's $64.98 plus $17.97 shipping, so it would be $82.95 plus taxes. It's a shame the shipping cost on this individual item is so high, but them's the breaks!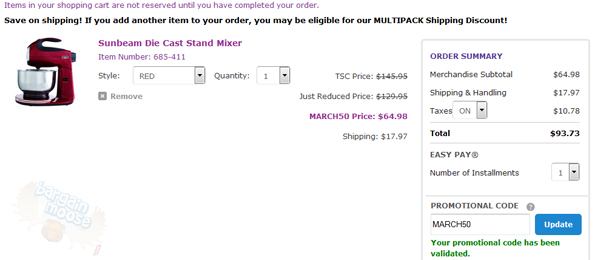 When I price compared the Sunbeam mixer, it's still a superb price even when factoring in that shipping cost. The closest I can see which would be comparable to the Sunbeam stand mixer above would be this Sunbeam Mixmaster 4 Qt. 12 Speed Stand Mixer for $99.99 from Home Depot, only in white though. But most other stores sell this and similar Sunbeam stand mixers for between $130 and $150.
As you can see in the image above, you've also got a few colour choices with this Sunbeam mixer, to suit your individual tastes. You can choose silver, red or black. I'd go with the red, myself!
And here are a few features of interest:
Chrome beaters and dough hooks for complete mixing versatility
12 speed control for versatility
6 quart stainless steel bowl
The Sunbeam Die Cast stand mixer from The Shopping Channel comes with a two year manufacturer's warranty which is good to hear. Reviews here on Amazon are a little bit mixed, with a few people giving this machine five stars but with a few disappointed users too. In my opinion, you're not getting the quality you'd get with a Kitchenaid stand mixer, but then again, you're also forking out around a third to quarter of the price you'd pay for one of those. Not everyone has the funds for a Kitchenaid mixer, so this Sunbeam model is an option for those baking on a budget.
(Expiry: 15th March 2015)