KitchenAid Ultra Power Hand Mixer - Twilight Blue $39.99 @ BestBuy.ca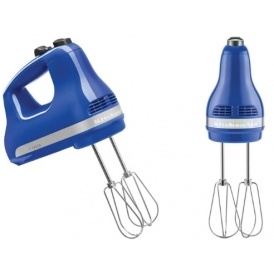 Wow! I just scored this deal as a Christmas gift for my mother-in-law. Best Buy Canada has the KitchenAid Ultra Power Hand Mixer - 60 Watt - Twilight Blue on sale for $39.99 down from $79.99.
At this price, snag the KitchenAid Power Hand Mixer for yourself or as a gift! You'll need it for all that Christmas baking, and it would also make a great gift for any baking fan on your Christmas list.
The KitchenAid Power Hand Mixer like this sells for $70-$90 at other Canadian retailers, so you can definitely count this as a deal you won't see again for a while.
Personally, I prefer hand mixers like this over the stand mixers. They take up less space in the cupboard and are easier to take out, clean and put away. This one is even dishwasher safe for easy clean up!
Now where is that recipe for the magical cookies that get the kids to bed on time?
You'll also get free shipping and handling from BestBuy.ca since this order is over $35.