Home Depot Canada Appliance Event: Up To 36% Off Fridges, Ovens, Dishwashers etc.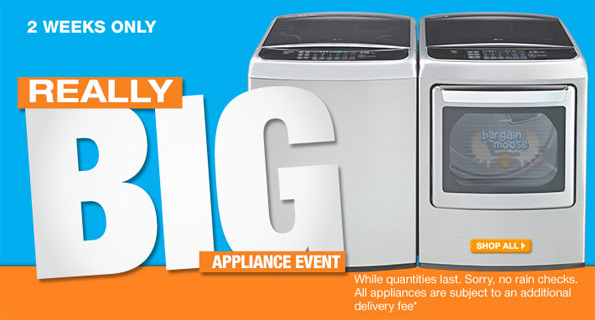 There is a really big appliance event going on at Home Depot right now and you're invited! For a limited time, you can save up to 36% off refrigerators, ovens, dishwashers, washers and dryers.
With the first of month only a couple of days ago, I'm pretty sure that some of you will be moving or plan on doing so soon at least. But even if you're not, then major appliances are the kind of items that simply can't be avoid, so if you're in need of new ones, then Home Depot's event is definitely one to consider.
Just to give you an idea, this LG LDF8072ST dishwasher has 5 stars out of 5 at Home Depot right now and is 20% off, at just $1,198 (reg. $1498). At Future Shop, this same dishwasher is actually as high as $1,399.99!
Same goes for this Samsung SMH1816S micro-wave: it's on sale for $228 (reg. $348), but Future Shop has it for $269.95 and Sears even sells it for as high as $379.99!
Depending on what you need, just make sure to compare prices with all of the other major retailers. Also keep in mind that shipping charges vary per product and you may need to call to order.
(Expiry: 9th April 2014)