Get Red Hot Deals for Under $20 & FS on $75 @ Kitchen Stuff Plus Canada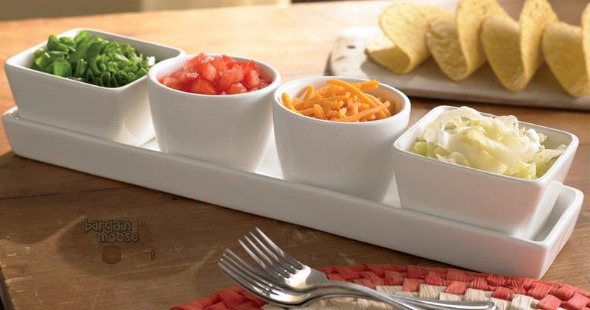 Kitchen Stuff Plus Canada is always the first place I look if I am in need of anything for my kitchen. Quite usually they have their famous Red Hot Deals available. This time, you can shop at Kitchen Stuff Plus online and in stores and get their Red Hot Deals for under $20. You have to use the print coupon in stores or the coupon code online to get the discounts.
Click here to shop @ Kitchen Stuff Plus Canada now
Coupon Code: KSP265
Discount: Items for $20 or less
Expiry: 1st March 2015
This time around, Kitchen Stuff Plus Canada has categorized their deals into a few sections. You can browse through items for just $5, $10, $15 or $20. These items are discounted by up to 75% off, so enjoy the savings. You may be looking to spend as little as $5 per item, and you're in luck. The Wiltshire Staysharp Self Sharpening Utility Knife will only cost you $5 right now. This knife compares at $25 at other retailers. You could also get the adorable 5 Piece Host Ceramic Mini Bowl Set with Tray for just $5 instead of $14.99. These are great for serving veggies and dip at little parties. I use them on fajita night, when my family sits around the table and makes their own fajitas for dinner.
For just a few dollars more, you can achieve simple organization within your kitchen. The 4 Piece Ellipse Cylinder Canister Set will cost you just $10 with this coupon, rather than the original price of $19.99. These canisters are great for storing coffee, hot chocolate, baking supplies and other dry goods. You can also get the 6 Piece Clip It Rectangular Glass Storage Container Set for just $10 instead of $19.99. These containers are great for storing sliced veggies in the fridge, or even for packing lunches (as long as your hubby is good at bringing the containers back home).
Speaking of storage, if you are looking at the higher priced items then you may enjoy this particular Kitchen Stuff Plus Canada Red Hot Deal. The Sit Collapsible Leatherette Storage Ottoman would normally cost you $40, but with this coupon you will pay only $20. I use my storage ottoman for cards and remotes (my two year old is great at losing the DVD player remote). You can even choose between black, brown or red.
You can even get coupon page in the forum. You can also sign up for email updates there so you don't miss out on any future Kitchen Stuff Plus Canada coupon codes or discounts.