Chefmix Canada: Clearance on Select Joseph Joseph Items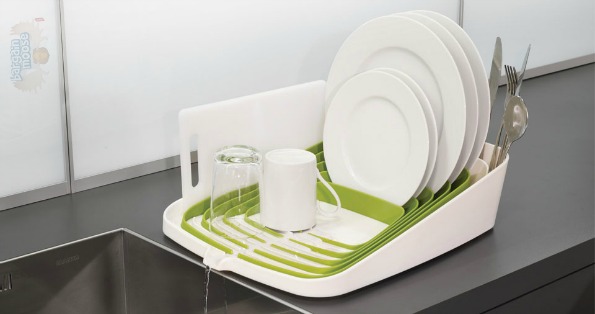 I am absolutely obsessed with Joseph Joseph lately and I have illustrious plans to convert my entire kitchen over to this brand's minimalistic and user friendly designs. Chefmix Canada has discounted select Joseph Joseph kitchen accessories down to really hot prices so I just had to blog about it.
There isn't a huge selection of items on sale, but the ones that are on sale are worth buying. This Joseph Joseph Arena Self-Draining Dish Rack (pictured above) was $69.99 and is now on sale for $35. The same dish rack is $45 at Amazon.ca so you are saving a minimum of $10 off the nearest competitor.
This Joseph Joseph Folding Colander with Chopping Board (Green) was $42.99 and is now $23. I couldn't find an exact price comparison because this combo pack doesn't seem to be common, but just the chopping board without the colander is $19.99 at Amazon.ca so this is a pretty awesome deal as the extra piece is essentially costing you $3 and is worth a heck of a lot more.
This Joseph Joseph Medium Square Colander (white) is a bargain at only $6, originally $11.99. Especially because Amazon.ca has the same item priced at $21.16.
Last but not least, pick up this Joseph Joseph Salad Bowl & Server Set (Black) or in green. Originally $59.99, they are on sale for $30 now. Depending on the colour, these sets start at $43 and go up from there at Amazon.
The prices are excellent, and the kitchen accessories are very useful. I am loving this brand, I just need to get use to the bright colours.
Remember: They also give you a free gift worth $23 with orders over $99. For orders over $349 you will receive a free gift valued at over $45. Receive free shipping on orders of $150 or more. Other than that, shipping depends on what you buy and where it is going.
Be sure to use the coupon code CHEF20 we previously mentioned to get $20 off orders of $50 or more.
(Expiry: Unknown)