50% off Kitchen Electrics & Cookware with Code @ Linen Chest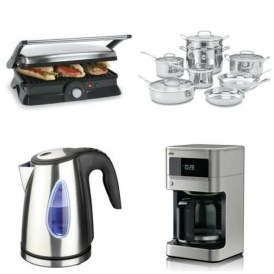 If you've been waiting for a sale to add a small appliance or two to your kitchen, this may be the time! Maybe replace that old coffeemaker or try out a panini grill? This weekend, at Linen Chest, you can save a whopping 50% off regular priced kitchen electrics and cookware just by entering the code FLASH at checkout.
Growing up, a friend of mine had an old-school panini grill-type appliance and we used to make the most delicious sandwiches; with ooey, gooey cheese. Mmm! I've never had one of my own but am seriously considering this little beauty: the Salton Stainless Steel Panini Grill. Regularly $59.95, using the code it's just $29.98.
We need to replace our old kettle and I'm always concerned about how appliances look when they live on the counter the way a kettle does. I came across this Cool Kitchen Pro Electric Kettle and think it's so sleek and cool looking. It would match perfectly with our other stainless appliances and accessories, too. It's also just $29.98 this weekend.
If you're looking for a super inexpensive coffee maker--for a dorm room, perhaps--check out this Hamilton Beach 5-Cup Coffee Machine. The regular price is $24.95 which means you'll pay only $12.48!
Linen Chest ships orders of $75 or more for free, otherwise, shipping depends upon your order's total but starts at $9.50.