30% off Cucina Products and Free Shipping on $30 with EXCLUSIVE Code @ Fruits & Passion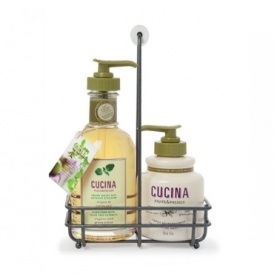 We've scored you another fantastic exclusive coupon code! This one will get you 30% off the delicious Cucina product line at Fruits & Passion AND free shipping on orders of just $30. Just use the code MOOSE30 at checkout to save!
I first tried the Cucina products years ago when my mom received a gift set and put it in the kitchen. They smell so good and feel so luxurious! My mom had the classic Coriander and Olive Tree fragrance but now they've expanded the line to include lots of other yummy scents, like Pompelmo and Sanguinelli orange and fennel.
The Regenerating Hand Cream is the classic Cucina staple. Regularly $16.50, using our coupon code you'll pay just $11.55.
This Lime Zest and Cypress Hand Soap with olive oil sounds lovely and drops from $10.50 to $7.35 with the code applied. I absolutely love grapefruit and its scent so I can't wait to try the Pompelmo version, as well.
This Oregano and Green Citrus Concentrated Dish Detergent is fantastic, too. It's $9 but you'll pay just $6.30.
Ordinarily you'd have to spend $45 at Fruits & Passion to receive free shipping but using MOOSE30 you'll receive free delivery with just a $30 spend. Take advantage of this exclusive code before it expires on Wednesday!
(Expires: 8th June 2016)