The Children's Place Canada: Half Price Girls' 3-in-1 Jacket - only $48 & Free Shipping!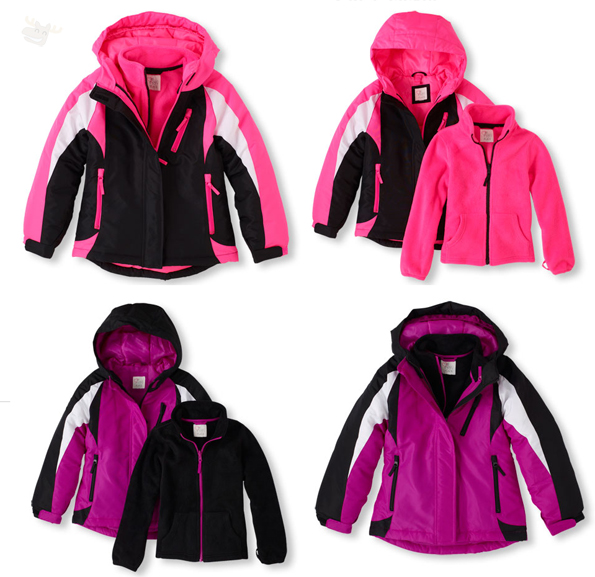 Did you know that it is the last day to get totally free shipping from the online store of The Children's Place? They have been offering free shipping, no minimum, all month… and this is the end of the month. To take advantage of that saving (saves you $8), I had another browse of the site this morning and discovered a great deal on this girl's jacket. The pink and black 3-in-1 Jacket was originally priced at $99.95, and the sale price is $59.97. But using the coupon code below brings it down to only $47.98!!
If you apply The Children's Place promo code 5CB7FY20, you will get the item for the discounted price of $47.98 with free shipping to your home. This is actually slightly more than half price – it's a 52% discount.
There are two colour choices in this jacket; black (which seems to be mostly black with pink highlighting, or SUPERPURPLE (which is mostly fuschia with black details). I like both colours actually, both would look good on my little girl. As for sizing in both colours, there is a good availability for ages 4 up to14.
And as you can see from the image above, the jacket splits out into the outer raincoat and the inner fleece lining. This is actually a really handy option, to be honest. For my girls… I have multiple coats! I have a rainjacket for when it's wet and warmer jacket for when it's not so wet, but cold. This 3-in-1 jacket could kind of cover all those options. And by 3-in-1, you'd have these choices in wearability:
Fleece alone
Rainjacket alone
Fleece & rainjacket combo
It's a little difficult to show you a price comparison elsewhere on this item, as it's not a branded jacket – The Children's Place is the brand. There are some similar ones on Sears priced from $80 and upwards, and a couple on Sportchek priced from $75 and upwards. I think it's a really solid price from The Children's Place and could be a good jacket for a little girl.
(Expires: 31st August 2015)