Tees from $6.65 with Extra 25% off Kids' Sale & 20% off Adults' & Free Shipping @ Roots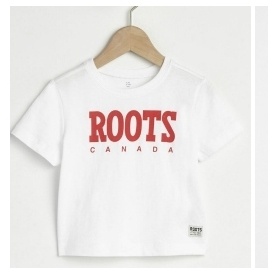 We told you about the Roots summer sale a few weeks ago, but how about if we sweeten the deal with an additional 25% off their kids' stuff and 20% off their adult line? Your wish is my command! (I actually had nothing to do with it... shh.) There's no promo code needed. Just add sale items to your cart and the appropriate discount will automatically be deducted. Easy as pie.
Roots has long-sleeve tees for baby, like this Paint Splatter Logo Tee sale priced at $8.87. Add it to your cart, though, and you're paying just $6.65. Short Sleeve Logo Tees are $9.66 after the additional discount.
Tees for toddlers are the same price at $9.66 and you can snag some sweatpants for cool summer nights or just the fall that will be here before we know it (sob) for $17.16 -- they were $28.

Cute graphic tees for boys, like this Camping is In-Tents one, drop to $11.16 girls' leggings start at just $12.66 in your cart.
Don't forget about you! Check the women's and men's sections as their sale stuff is an extra 20% off. I love the detailing on this Ember Top. Originally $70, it's down to $49.99 but with the discount it's $39.99.
Update: Roots is currently offering free shipping on all orders!
(Expires: Unknown)