Petit Lem Sleepers Now $11 & Free Shipping @ The Bay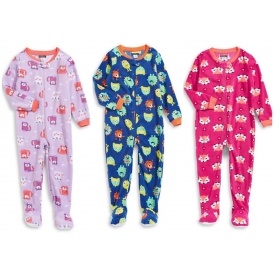 Petit Lem is not a very well known brand, but the lucky parents who have discovered the brand love it. What makes the brand so great is the quality of their clothing. The Bay carries the Petit Lem brand and currently has some adorable onesies at 50% off. Originally $22, you can get the sleepers pictured for only $11 each. Best part? They ship for free, only tonight!
I was gifted a Petit Lem onesie for my son when he was born and it was by far my favorite sleeper he owned (he had a LOT of them!) It was also one of his longest lasting onesies which is really saying something. Not only did it stand the test of time, it also
These sleepers are available in 6 different designs, and in sizes 2, 3 and 4. That is great news for parents looking for bigger onesies. A lot of children clothing retailers stop making onesies at size 2 for toddlers, but who says older kids don't want to wear onesies? My advice is to wear onesies for as long as you can!
Shipping is free on all orders from Hudson's Bay.

(Expiry: Free shipping at The Bay ends tonight!)