Paw Patrol & More Licensed Tees from $12.74 Shipped @ Hudson's Bay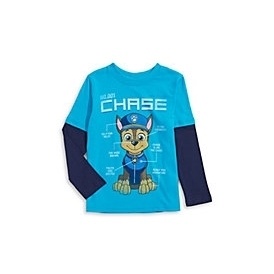 If you've got little ones, I'm quite sure you've got Paw Patrol fans in your house. If not Paw Patrol, what about Teenage Mutant Ninja Turtles? Spiderman? Well, I've found a small collection of licensed tees on sale at Hudson's Bay and, combined with today's free shipping on every order, you can have them shipped to your door for just $12.74.
For the aforementioned Paw Patrol mini-fans, there's this Paw Patrol Shirt that's cute and comfy and features all of their favourite characters right on the front. It's down to $12.74 from $16.99. This Chase shirt is the same price. I love the turquoise colour! For a couple of dollars more, this great Baseball Style Paw Patrol Shirt has a bit of a vintage feel but still showcases their favourite show. It's down to $14.99.
If saving the world is more their thing, check out this raglan-sleeved Marvel Collage T-Shirt with a colourful collage of their fave superheroes on the front. It's been marked down to $20.24 fro $26.99. For the same $20.24, you can find Spiderman and Captain America vs. Iron Man, too.
And we all know TMNT will never go out of style because I remember watching it as a kid! Get this Teenage Mutant Nina Turtle long-sleeve tee for $12.74 or this 'Trust Me I'm a Ninja' graphic sweatshirt to keep them cozy while they fight crime (and eat pizza) that's down to $22.49.
Never to be left out are the Minions! This one features every kid's favourite line: "I didn't do it!"
Remember, The Bay is offering totally free shipping on all orders through tonight so get shopping!