Kids' Graphic Tees from $3 with 50% off & Free Shipping @ The Children's Place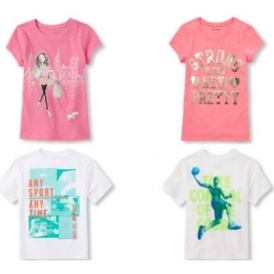 The Children's Place is still offering totally free shipping on every order and, right now, they've got their short sleeve graphic tees marked down by 50% (they say 50% but there are some that are discounted by even more than that and some new arrivals that aren't discounted by as much, so I suppose it evens out!). That means that you can score tees from $2.99 shipped right to your door. No promo code is required for these deals, either. Easy as pie!
As mentioned, any of these tees (or any order for that matter) will ship for free right now from The Children's Place.