Kids' Character Shoes $26.31 with Code @ Sears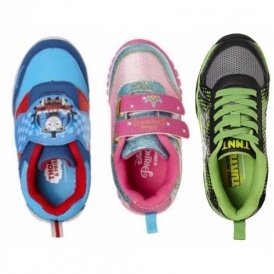 Sears has some great deals on shoes this weekend and, while I was browsing, I came across some really cute options for the little ones. They're already marked down from $44.99 to $29.24 but enter the code 941612345 at checkout to save another 10% and you'll pay just $26.31 per pair!
The first pair I spied was the Thomas the Tank Engine Boys' Light Up Running Shoe. They've got slip-on construction so you're not fighting with squirmy little feet and a cushioned insole. But the big seller: the fronts light up with every step, giving Thomas an extra special look. What kiddo wouldn't love that?
If TMNT is more your child's style, check out these Teenage Mutant Ninja Turtles Boys' Running Shoes. They've got lots of features to keep his feet comfortable including a cushioned insole, slip-resistant outsole and breathable construction. Perfect for practicing ninja moves!
Finally, for the little girls, these Disney Princess Girls' Running Shoes have fun, bright colours and sparkly accents, perfect for the feet of a little princess. They've got Velcro closures and the same breathable upper and cushioned outsole.
If the characters don't appeal to you, check out the rest of the selection where you can find Skechers for 30% off at $47.59.
Be sure to have your order shipped to your local store for pick-up to avoid the $6.95 delivery fee.