Half Price Onesies @ The Children's Place Canada: only $14.38 & Free Shipping!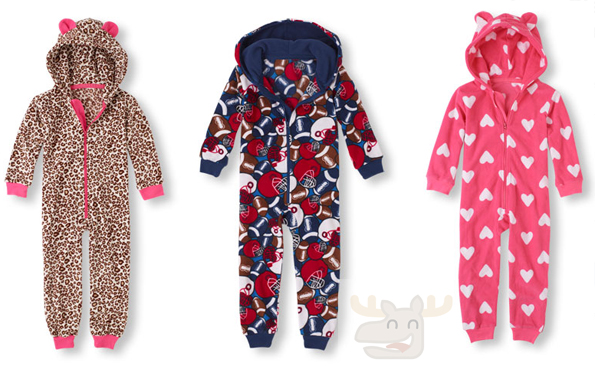 All of this month (August 2015), The Childen's Place's online store has been offering TOTALLY free shipping on every order, with no minimum spend required. This is really fantastic, as you can keep an eye out for clothing bargains for your kids, and stock up on all the sizes you need. I've spotted a sweet little price on a few pajamas, or "onesies," if you will. These three items were all opriginally priced at $29.95, they're down to $17.97 in the sale, plus you can use an extra coupon code to bring them down to only $14.38 – a little bit more than half price!
If you want the onesies at this price, then make sure you use the coupon code 5CB7FY20 when in your shopping cart.
The sizing is very good, with a wide range of sizes to choose from, as I write this post:
Leopard: 4 only
Football: 4, 5/6, 7/8, 10/12, 14
Heart: 4, 5/6, 7/8, 10/12, 14
Here's what you should do – stock up on a few sizes up for your kiddos. These onesies are absolutely excellent in the winter time. My five year old has a few that she sleeps in, and I rotate through them when one is in the laundry. I do actually need a few for the next size up… now that I think about it. :)
There are onesies at similar prices online at Carters & Osh Kosh, but they have a standard $8 shipping fee, which is a bit of a kiler. The prices above from The Children's Place, combined with their current free shipping means that this is a killer of a deal.
(Free shipping expires: 31st August 2015)