Funny Add A Kid Onesies, Tees & Bibs from $6 @ Snuggle Bugz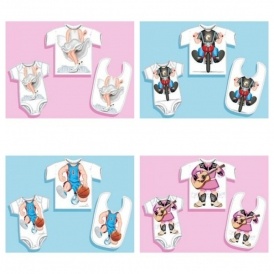 I was doing my usual perusal of the sale section at Snuggle Bugz and came across the cutest, funny little tees, onesies and bibs for the little ones. From the cleverly-name Add A- id, the tops and bibs have character bodies printed on them so when you add your kid, it looks like they're in costume (sort of)!
These would make such a great shower gift if you know the gender of the baby. There are some sizes left for older kids, too, in certain designs.
For just $6, you have have your little girl 'dressed' like Marilyn Monroe in one of her more famous looks or see your little dude on a hog.
Originally $17.99, the remainder of the styles are priced now down to $9.
For your sporty little guy, check out the Soccer and Basketball. (There's a great Goalie one, too, but this is Canada and unfortunately it's out of stock!) Little ladies can be Golfers, Shopping at the Mall, Cowgirls or, of course, your little Princess.
Other styles include the Devil (appropriate for all babies some days, right?) and a Beach Bum, complete with a cold drink and a beach chair. That one is really cute.
I think these are so funny--I would have loved some of the sports ones for my little guy when he was smaller because, like most boys, his daddy is convinced he's going to be a star some day.
Try to top up your order at Snuggle Bugz as they ship orders of $49 or more for free. Otherwise, shipping depends upon your location.
What do you think of these Add A Kid tops and bibs?