Celebrate Siblings With Graphic Tee's from $5.50 + Free Shipping @ The Children's Place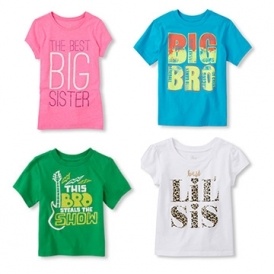 Did you celebrate National Siblings Day yesterday?
Hopefully you picked up the phone and gave your sibs a call, told them you loved them despite that time they put dog food in your cereal bowl (true story). If you have sibs in your household, pick them up some sibling tee's today—it's the LAST DAY to score 50% off site wide at The Children's Place using code HAPPYSPRING50. Guys, also included is free shipping on every order!
The Children's Place has a big selection of graphic tee's that celebrate the awesomeness of being a big or little sis or bro! Today is the last day you can grab them starting at just $5.50 for toddler styles and $6.50 for boy and girl styles.
Here's just a selection of the fun sibling tee's available, but don't forget, 50% applies to the entire store!
Don't forget you will get free shipping on your order until the of today ONLY. Don't miss out!
Tell us about your siblings and your favourite memory with them!
(Expires April 11, 2016)