Walmart Canada: Laugh & Learn Nighttime Sis Baby Toy was $23 now $15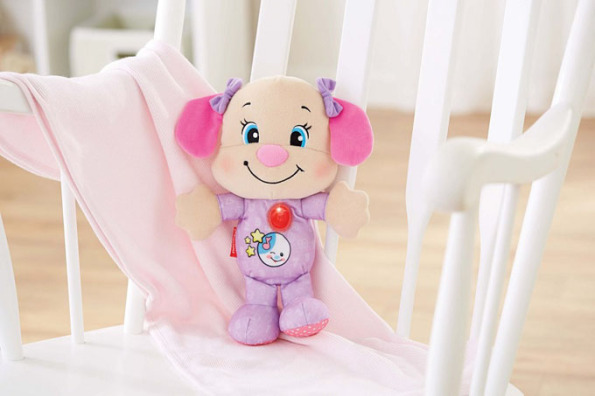 How cute is this Laugh & Learn toy? Your little girl can be soothed by all kinds of wonderful songs and phrases, and your wallet won't even be upset. Walmart.ca has a new, online exclusive clearance deal that will get you the Laugh & Learn Nighttime Sis Baby Toy for just $15 instead of $22.94. There are a few different shipping options available from Walmart.ca.
The Laugh & Learn Nighttime Sis Baby Toy is made by Fisher-Price, and you won't be disappointed with your purchase. This cute little plush has ten minutes of soothing lullabies and the heart even lights up. Your little one can press on the toy's tummy to hear a variety of adorable phrases too. If you press and hold the heart button for three seconds, you will lock the toy into lullaby mode. This is bound to help you get your little one to sleep at night!
This adorable Laugh & Learn toy is best suited for children between the age of 1 and 3. This toy doesn't seem to be available at many other Canadian retailers, but it is priced at $35.99 and up at wherever I could find it. So that is a whopping $20 difference between this deal and the price that other merchants are asking for this toy. Plus, the Laugh & Learn Nighttime Sis Baby Toy has excellent reviews.
Parents who have purchased this toy for their previous children end up buying it again for their second or third child if they didn't hold onto the toy to hand down to the younger siblings. I read many reviews on this product and I feel that it is a quality toy for a fantastic price right now. I hope you feel the same.
There are other Fisher-Price Laugh & Learn toys on clearance sale too, if you are wanting more for your collection. Here is a quick look at some of the other toys that you can currently snag at clearance prices:
For shipping, Walmart has a few different shipping methods available. You can check out the other clearance deals and get free shipping right to your front door when you spend $50, or you can snag just this toy and have your purchase sent to your local Canada Post Office or local Grab & Go Locker for totally free.
(Expiry: Unknown)